Villard Reculas...
A resort, a village!
At the entrance to the Alpe d'Huez Grand Domaine ski area.
Villard-Reculas welcomes you
from 9 December 2023
The ski lifts are back in service this winter.
Come and enjoy skiing at Alpe d'Huez Grand Domaine!
Events' Calendar
Events and entertainment in Villard-Reculas
Your activities for this winter
Plan your trip
Accommodation, recommendations... and some photos to help you choose.
Villard-Reculas... is also a summer destination!
Welcome to Villard-Reculas!
In these mountains in the summer, you can expect a moving experience, full of surprises. Villard-Reculas is a picture-perfect land of forests and peaks, where the steep slopes of Oisans merge into lush green pastures overlooking Romanche and Eau d'Olle valleys.
Magnificent scenery, contemplation, new discoveries, relaxation, sports and leisure activities all await you in this spectacular, charming village-resort, at the entrance to the Alpe d'Huez Grand Domaine ski area. See you soon in Villard-Reculas!

A small family-friendly resort
with direct access to the Alpe d'Huez Grand Domaine Ski area
The village-resort of Villard-Reculas is a charming and peaceful destination and a partner resort of the Alpe d'Huez Grand Domaine Ski area, with 20km of slopes for all levels, up to the Signal at an altitude of 2,100m. You will also have access to a children's area, hiking and ski-touring trails, special areas for sledging and freeride, for a successful holiday guaranteed!
From the Signal, you'll have a magnificent 360° view, and you can get direct access from here straight to the vast Alpe d'Huez Grand Domaine ski area, with 250km of slopes across all the partner resorts of these mountains, right up to the peak of this ski area, the Pic Blanc at an altitude of 3,300m. This huge ski area is made up of Alpe d'Huez and Villard-Reculas of course, as well as Auris-en-Oisans, Oz-en-Oisans, Vaujany, La Garde-en-Oisans and Freney d'Oisans.

#OISANS
Find all the best photos from Oisans posted on Instagram with #oisans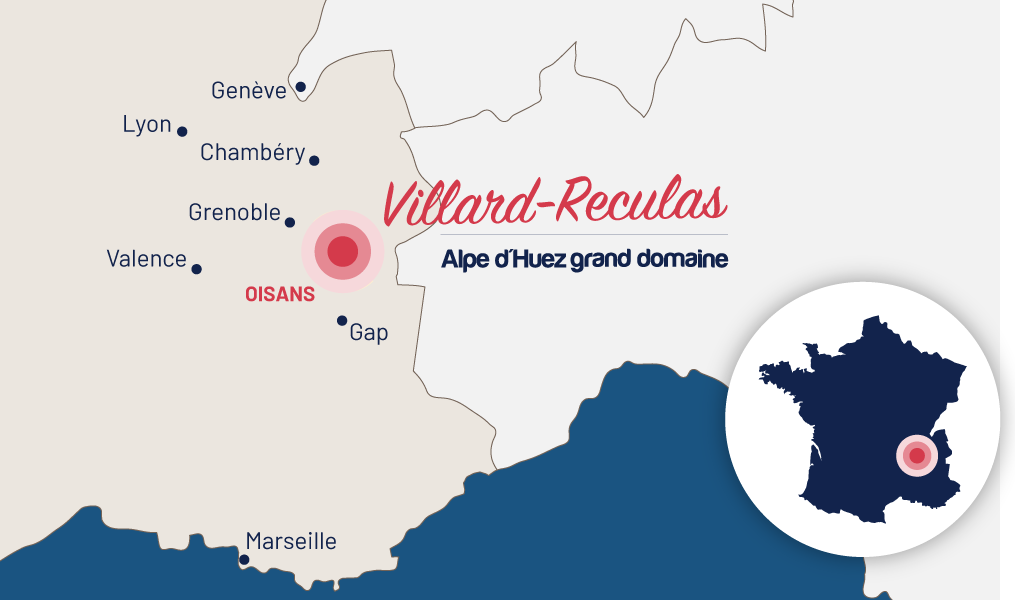 Villard-Reculas
The small resort at the entrance to the Alpes d'Huez Grand Domaine
Grenoble 1hr
Lyon 2hrs15
Valence 2hrs
Paris 6hrs30
Marseille 4hrs
Geneva 2hrs30
Lyon 2hrs45
Valence 2hrs30
Paris 4hrs15
Marseille 4hrs45
Geneva 3hrs45
Paris 4hrs15
London 4hrs45
Amsterdam 5hrs
Brussels 4hrs35
Barcelona 4hrs15
Berlin 5hrs15
Dublin 5hrs30
Rome 4hrs45